How do we stack up in service, price & customer satisfaction?
First our Selection: with 1000+ hats in stock
we likely have the largest inventory any ware in the world of Genuine Montecristi Hats.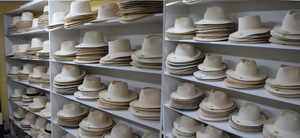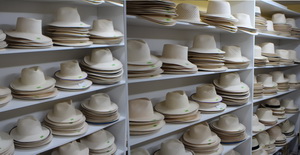 That means you have a lot of things to choose from our off the shelf inventory! That means we can finish and ship quickly what we have in our hands verses custom building from scratch every hat. We painstakingly photograph each and every item we have so you can see exactly what you will get, not a simple representation with a stock image! This is as close to visiting or shop in person as you can get! since each panama hat is hand woven each,  though similar, are very unique each having special differences you can see in detailed large format images!
We offer a unique platform for customizing a panama hat to your personal needs and desires
with 8 models X 5 hat grades X 8 Brim sizes X 5 brim shapes X 80+ hat bands X 12 hat sizes = 1,536,000 possible combinations you can build on screen!
You don't have to wonder what a 3/4 curled brim on a Havana model with a striped band would look like!
You can build it and watch it live on your screen and see it in 3 angles!
Ya were proud of this one it took a lot of work to build but more than that and our customers are loving the possibilities!
This is what a custom hat shop should provide! Choices! Selection & Service
When we say CUSTUM Built that is not empty speech, we mean it!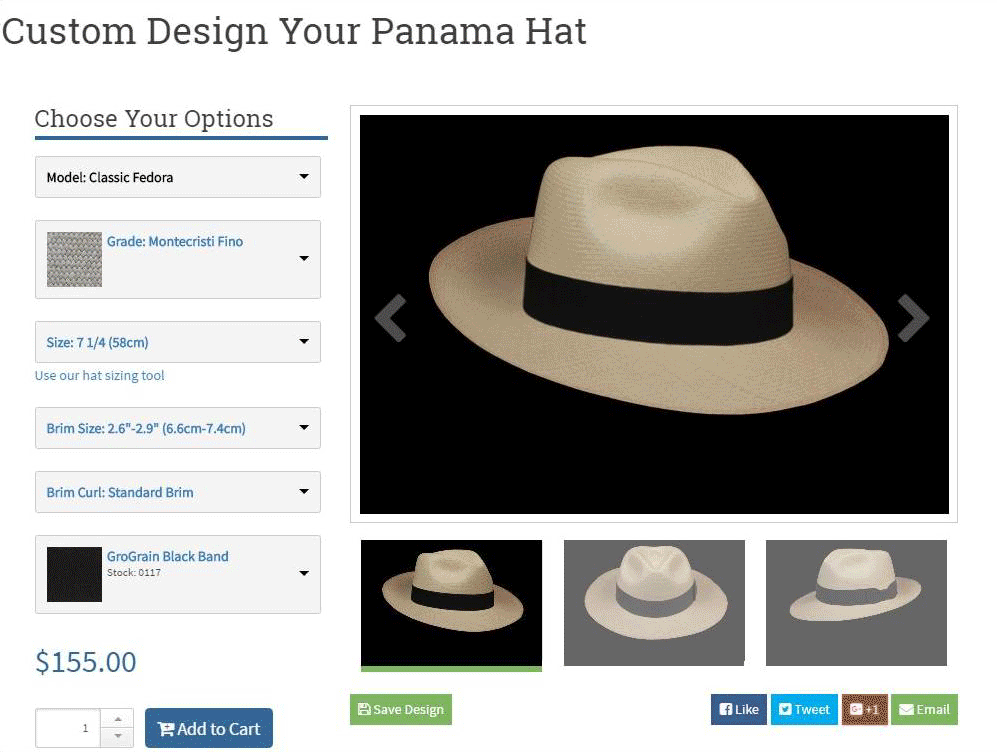 Unfortunately the internet is a hiding place for many they can promise big things and later you are left on your own when you have a problem. Not Panama Hats Direct we give you customer service IN person if you so desire free of charge (try it now! 1800-876-6956) even though we are in Ecuador you don't spend a dime to communicate with us!!!
Ecuador - where all Genuine panama hats come from!
We started in 2000 with a small family run business and we are still that way all this time later we are family run see our workers and our shop in our Office Tour!
As your hat passes our various work stations you can expect updates with PICTURES!
Y yes hats right we email updates as we are working on your order with actual pictures of your hat as we make progress on it!
Theirs is a lot of work that goes into finishing a panama hat and as we work on your hat we take a picture and send it to you with our iPad work Stations built into our work flow!
So you know what we are doing and you can see it in progress!
You know what it looks like before we even bill your credit card since we don't even charge anyone till the day we ship
so if you don't like the results just let us know we will adjust it before we ship!
Now that is Profesional & Personalized Service!
We want your hat to last a lifetime and we build it to last. we use top of the line stiffeners and blocking agents that will not damage your hat over time, we use high Quality Pull-up oil tanned leather interior sweat bands on ALL our Montecristi hats, hand stitched in custom fit to your precise size!, we use a carefully processed thread in the stitching process of the leather sweat band so as to minimize sweat stains that WICK out to the straw threw the stitching! We use a Nice Removable inner liner to keep sweat and oils form your hair off the hat, removable to wash as you need or remove entirely if you prefer. We use a inner pinch protector in all our fedora models with a pinch at the front to keep the straw at the pinch in perfect shape for 10, 12, 15 years later!
With Fine leather sweat bands, Liners & Pinch Protectors
We build your hat with care ... we build it to last!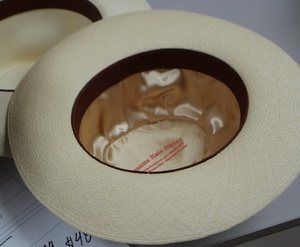 We pride ourselves in our communication:
Form the creation of your order to the building of your hat and final shipping process we keep you in the loop!
But if you ever have a question we are just a call away! - speak directly to the workers making your hat not some call center not someone who doesn't speak your language, speak directly with the owner if you like, Casey Dalzell I make myself available to you!
If you don't like it, I don't like it! We are her to serve you and whatever happens we are here to work through any difficulties that may arise we have 17 years experience making customers happy - yes that means you!
With our satisfaction guarantee you can rest assured we have your best interest at heart but if for any reason you need to return your hat. It will not be "Lost in the mail" we guarantee a swift painless resolve to any problem you have.